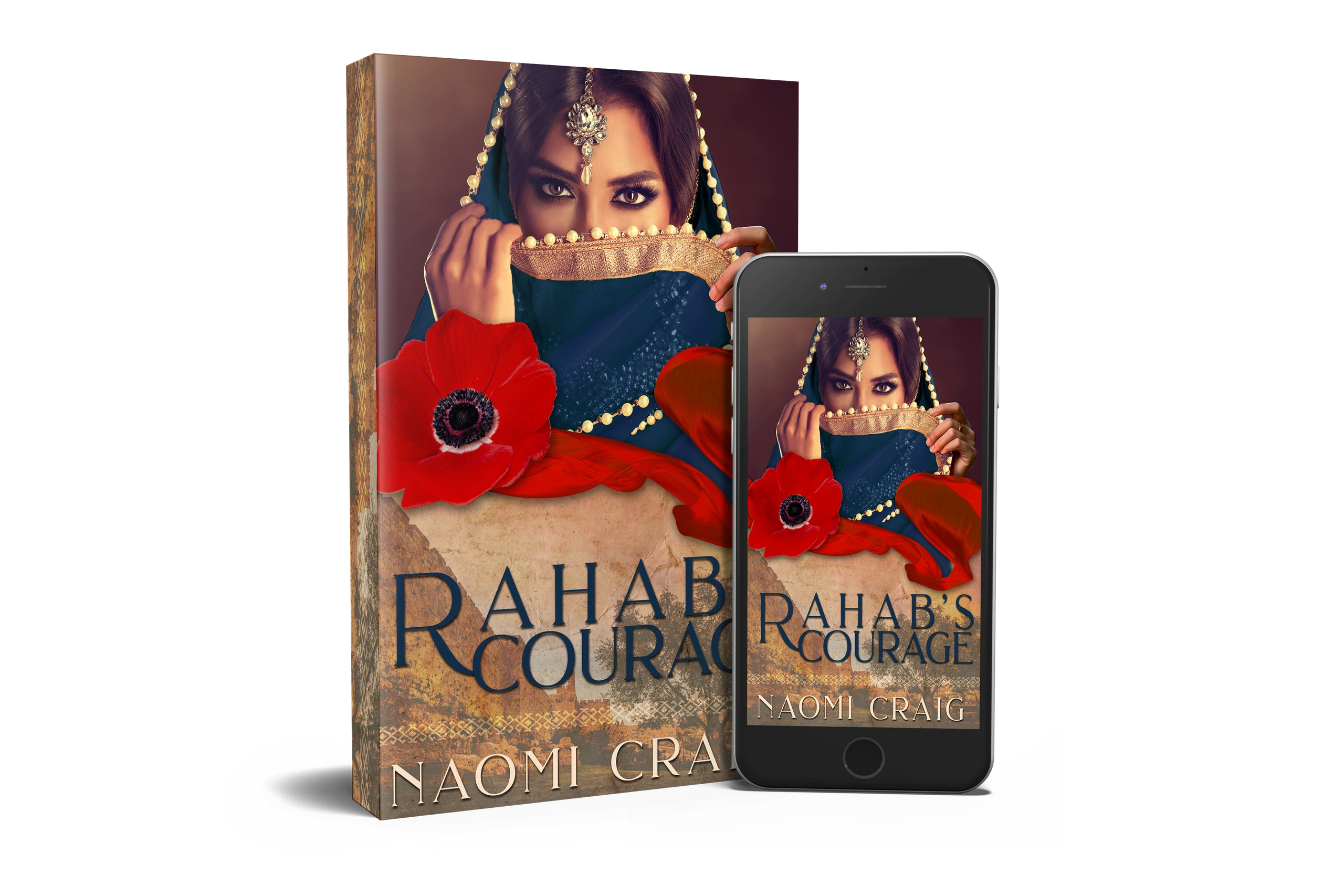 Book:  Rahab's Courage
Author: Naomi Craig
Genre: Biblical Fiction
Release date: August 17, 2021
Buy on Book Depository | Amazon | B&N 
A scarlet cord tethers one ruined woman to the salvation of mankind.
Harboring two fugitives in a city slated for destruction, Rahab has one small chance of escape. In exchange for their safety, she bargains for her own. Their agreement rewards her courage, and she flees Jericho and a life of prostitution for a new life among the people of Israel. Never again will she have to depend on anyone—especially men.
Except Salmah won't take the hint.
High ranking soldier and leader of the tribe of Judah, Salmah is determined not to repeat his parents' mistakes. He will keep the Lord's commandments. Rahab's growing faith fits right in with phase one of his plans: find a wife who loves the Lord and settle down in the new land.
Rahab finds shelter and meaning in the Lord's ways until her past comes back to haunt her. As her new faith is put to test, she finds herself alone. Isn't that what she'd always wanted?
With her courage waning, only the Lord can turn Rahab's life around again, but will He do it before she loses everyone and everything that really matters to her—to her heart?
My Review
I've been following Naomi on social media for quite a while, always expectant of her writing journey and of the date this beautiful book would come out. As you guys know, I'm a Biblical fiction lover, I devour these type of books regrdless of pace or how long the book is. I've read too many biblical fiction books to count, but I will say this, Rahab's Courage was a wonderful debut book! 
Many of us Christians know the story of the redeemed harlot in the Bible, Rahab, and her tragic yet powerful story. Naomi paints the words of this story beautifuly and with so much grace and bravery. 
The book is more on the slower side, so if you love fast paced, action packed books, this one might not be for you! Don't misunderstand me, Rahab's Courage is truly a gem, yet I feel that you will enjoy it more if you love deep and descriptive writing. The story is rich is history and Hebrew customs that will help you understand the time period even better. This is not an easy read due to the nature of Rahab's past, but if you do decide to read it, it is one that will show you that there is no sin, no problem or obstacle too big that can not be overshadowed by God's neverending love. 
Overall rating: ⭐️⭐️⭐️⭐️ 4/5
Content: ***The scripture is clear that Rahab is a harlot. Due to the nature of this life, this story addresses prostitution, rape, and post traumatic stress. Please use caution with younger readers and if these subjects would act as a trigger for you. If Rahab's Courage was a movie, it would have a rating of PG-13
About the Author
Naomi writes Historical Fiction set in Bible times.
She lives in a small town in the south-eastern mountains of Arizona
She is an avid reader, Pastor's wife, and homeschool mom. 
More from Naomi
Matthew 1:4b-6a (NKJV)
Nahshon begot Salmon.  Salmon begot Boaz by Rahab, Boaz begot Obed by Ruth, Obed begot Jesse,  and Jesse begot David the king.
On the brink of war and conquering the Promised Land, The Israelites stand fierce and determined, ready to see God's victory. This time they will not waiver.  This time, obedience will be their theme. But it wasn't always that the Israelites stood with resolve as strong as Jericho's impenetrable walls.
Rewind forty years. The Israelites have just been delivered from slavery in Egypt. 12 spies were sent into the land and brought back a good report. There were bountiful crops peace and giants.
Nahshon, as the leader of Judah (Numbers 2:3), should have been influential in his tribe's decision to trust the Lord—especially since Caleb one of the two who trusted, was from Judah. Yet nobody believed. They all grumbled. So instead of what should have been a quick journey, it took forty years.
And the entire generation couldn't enjoy the benefits of trusting God and His promise.
Enter Salmah.
He sees the penalty of his father's disobedience. It shapes his life he adheres to the ways of the Lord. Plague after disobedience hardens his resolve. He will obey the laws of the Lord so it will go well with him in the new land.
So what is a man with this moral stature doing with a Canaanite? A harlot? Every sordid detail that makes up Rahab goes against his moral fiber.
But faith.
Faith that was spoken about all the way into the New Testament. Rahab steps out in sacrificial faith to a God she doesn't yet know, for strangers who have no reason to trust her.
As such, the Lord honored her faith. As He does when you and I step out on that limb because we've felt that stirring in our soul.
Faith is the substance of things hoped for and the evidence of things not seen.
Not only did the Lord spread His mantle of protection over Rahab, He also saw fit to include her in the lineage of His Son, Jesus.
Rahab's Courage is a love story. A story of stepping out in faith. Of changing expectations of yourself and others. Of how the Lord can redeem and use any who are willing to put off the old and become that new creation.
***The scripture is clear that Rahab is a harlot. Due to the nature of this life, this story addresses prostitution, rape, and post traumatic stress. Please use caution with younger readers and if these subjects would act as a trigger for you. If Rahab's Courage was a movie, it would have a rating of PG-13
Blog Stops
Rebecca Tews, August 13
Debbie's Dusty Deliberations, August 13
Inside the Wong Mind, August 14
Inklings and notions, August 14
For Him and My Family, August 15
Breny and Books, August 15
lakesidelivingsite, August 16
She Lives to Read, August 17
Boondock Ramblings, August 17
Abba's Prayer Warrior Princess, August 18
Betti Mace, August 19
Texas Book-aholic, August 19
Locks, Hooks and Books, August 20
deb's Book Review, August 21
Cats in the Cradle Blog , August 21
Ashley's Clean Book Reviews, August 22
Through the fire blogs, August 22
Connie's History Classroom, August 23
A Modern Day Fairy Tale, August 24
Labor Not in Vain, August 24
Musings of a Sassy Bookish Mama, August 25
Back Porch Reads, August 25
Truth and Grace Homeschool Academy, August 26
Giveaway
To celebrate her tour, Naomi is giving away the grand prize package of a $25 Amazon gift card and a copy of the book!!
Be sure to comment on the blog stops for nine extra entries into the giveaway! Click the link below to enter.
https://promosimple.com/ps/11419/rahab-s-courage-celebration-tour-giveaway