Today I'm excited to participate in the Bookstagram & Creative Tour for In the Jaded Grove by Anela Deen hosted by MTMC Tours! The Darkest Part of the Forest meets A Curse So Dark and Lonely in this gripping portal fantasy—where an injured pixie knight from a magical realm falls into the path of a poet from Michigan. Out on April 15th, 2021 from Fine Fables Press.
……………….
In the Jaded Grove by Anela Deen
Series: Kindred Realms #1
Published by Fine Fables Press on March 31, 2021
Genres: Adult, Fantasy, New Adult
Pages: 333
Format: Kindle, Paperback
Goodreads
Buy on Amazon
Source: Author, MTMC Tours
I received this book for free from Author, MTMC Tours in exchange for an honest review. This does not affect my opinion of the book or the content of my review.
Simith of Drifthorn is tired of war. After years of conflict between the Thistle court and the troll kingdom, even a pixie knight known for his bloodlust longs for peace. Hoping to secure a ceasefire, Simith arranges a meeting with the troll king—and is ambushed instead. Escape lies in the Jaded Grove, but the trees of the ancient Fae woodland aren't what they seem, and in place of sanctuary, Simith tumbles through a doorway to another world.

Cutting through her neighbor's sunflower farm in Skylark, Michigan, Jessa runs into a battle between creatures straight out of a fantasy novel. Only the blood is very real. When a lone fighter falls to his attackers, Jessa intervenes. She's known too much death to stand idly by, but an act of kindness leads to consequences even a poet like her couldn't imagine.

With their fates bound by magic, Simith and Jessa must keep the strife of his world from spilling into hers—except the war isn't what it appears and neither are their enemies. Countless lives depend on whether they can face the truths of their pasts and untangle the web of lies around them. But grief casts long shadows, and even their deepening bond may not be enough to save them from its reach.
My Review:)
I have so many thoughts about this book! 🙃🌻 What I liked the most was the beautiful setting and the pixies and fae and all the sunflowerssss 🌻 🧡 I want a magical backyard with a portal pls!!! 🥰
Anela's writing is atmospheric and captivating! ✨ The MC was also very original! I love that she was Filipino and had a very unique personality (which I so so so appreciate in YA and NA books). Also, there are trolls in this book! ✌🏼😳✨ TROLLS and a portal….. 😳🌻
I think that the magic and the fairy aspect was what I liked most- that collision of a fantasy world and the human one was SO good! BUT, I'm even more impressed by @aneladeenwriting skills! The way she developed the story and build it up truly surprised me 😃. The fairy realm was magicallllllll! All the Alice in Wonderland vibes mashed up with Once Upon a Time! I loved ittttt! This was truly a very well written and engaging book :)
Content for my clean read peeps : There are some semi descriptive kisses, some descriptive torture methods, some dirinking, a non descriptive same sex relationship/attraction between scondary characters, a couple times God's name was taken in vain, some gorey scenes and violence.
Amazon | Book's Website | Goodreads!
ABOUT ANELA DEEN
A child of two cultures, this hapa haole Hawaiian girl is currently landlocked in the Midwest. After exploring the world for a chunk of years, she hunkered down in Minnesota and now fills her days with family, fiction, and the occasional snowstorm. With a house full of lovable toddlers, a three-legged cat, and one handsome Dutchman, she prowls the keyboard late at night while the minions sleep. Coffee? Nah, she prefers tea with a generous spoonful of sarcasm. Find her at
Website | Instagram | Goodreads | Twitter
Book Quote Graphics :)
Pre-order Campaign for In the Jaded Grove!
Author Anela Deen is also running an EPIC pre-order campaign, and best of all, it is open internationally!
Details and links are on her website here: https://bit.ly/3eWOmE2 but below are some highlights.
Anyone who pre-orders the book on Amazon OR suggests it as a library purchase – and fills out my Google form – receives a swag pack.
The swag pack includes:
A 5×7 "In the Jaded Grove" Art Print (Exclusive design by Dreamy&Co)
2 Bookish Stickers
1 Double-Sided Bookmark
1 Signed Author Bookplate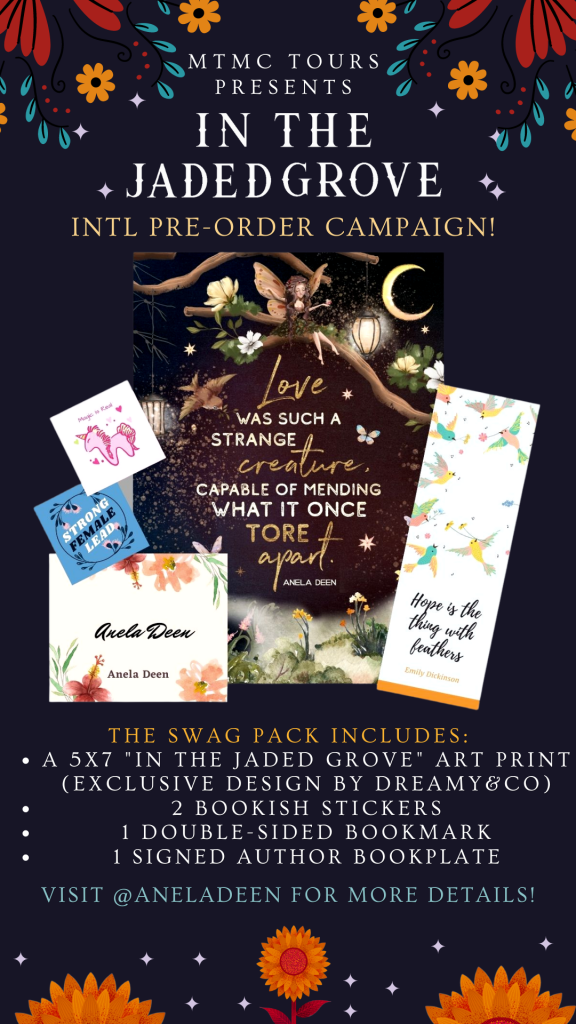 This is running until I run out of swag packs or until the end of April, whichever comes first.

INTL Tour-wide Instagram Giveaway!
Head over to our Instagram account where you can enter one of the following prizes:

1 Winner:
-A paperback copy of In the Jaded Grove
-A slim volume of selected poems by Emily Dickinson (the MC's favorite poet) with gilt-edged pages
-1 Alice in Wonderland postcard (my favorite portal fantasy ) illustrated by @MarijkeIllustration
5 Winners:
– 1 Alice in Wonderland postcard illustrated by @MarijeIllustration
Tour Schedule:
April 12
@paperfury – Boostagram + Book Blog
April 13
@pixiecutsandprose – Bookstagram
April 14
@thereaderandthechef – Bookstagram + Book Blog
April 15
@theheavycrownreads – Bookstagram
April 16
@brenyandbooks – Bookstagram + Book Blog
April 17
@gcreads04 – Bookstagram
April 18
@thereadingchemist – Bookstagram + Book Blog
April 19
@readmeinpastel – Bookstagram
April 20
@my_heart_is_booked – Bookstagram + Book Blog
April 21
@dazzlingtragedy – Bookstagram
……………….
Hosted by: